Elevating Homemade Ice Cream: A Symbiotic Blend of Technology and Quality
Enhance your ice cream production with efficient, noiseless, and compact brushless motors. Discover high-quality ice maker machines, integrating durable BL7825 motors for precise, top-tier ice cream production.
Share
Ice cream making is a delicate craft, where efficiency and precision intertwine to create frozen delights.

In this realm, manufacturers are always on the hunt for innovative solutions that can boost their production process while maintaining the superior quality of their products. One such solution is the integration of brushless motors into ice cream maker machines.
The Pain Points and Needs
Ice cream makers face a myriad of challenges in their pursuit of consistently delivering top-notch products. These hurdles range from inconsistent performance and noise pollution to space constraints. Moreover, aligning with the standards set from Good Housekeeping¹ and The New York Times² adds another layer of complexity to the art of crafting premium ice cream.
Performance Characteristics of High-Quality Ice Maker Machines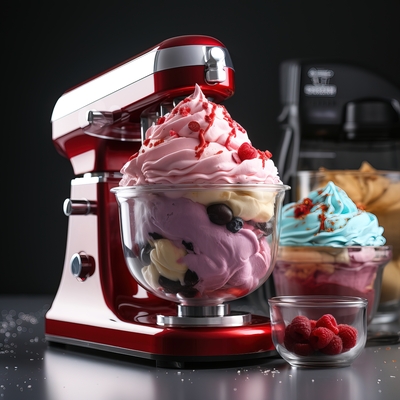 Based on the articles from Good Housekeeping1 and The New York Times2, here are some good performance characteristics of a high-quality ice maker machine:
Efficiency: A good ice maker should produce ice quickly and continuously. For instance, the Magic Chef MCIM22/HNIM27 makes nine bullet-shaped cubes every eight minutes.

Compactness: A compact design is beneficial for those with minimal counter space or who plan to store it away. Quality of Ice: The machine should produce high-quality ice. The Cuisinart ICE-21 makes dense, creamy ice cream that is smooth and rich.

Durability: While most machines come with a one-year warranty, a good ice maker should be durable and reliable. Noise Level: Although some noise is expected during operation, the machine should not be overly loud.
The Solution: BL7825 Brushless Motor
CJC recognized these pain points and developed the BL7825 brushless motor, specifically engineered to address the unique requirements of ice cream maker machines.

Parameters:
Voltage: 110V DC
Fast and efficient operation:
No-load Speed: 2000 RPM
Rated Speed: 1000 RPM
Ample power for heavy-duty ice cream making process:
High Torque: 1N.m
Compact Size: 60 mm lamination height
Characteristics
The BL7825 is designed with three key characteristics in mind: low noise, high torque, and compact size.
1. Efficiency Redefined: A remarkable ice cream maker is one that churns out creamy goodness without pause. The BL7825 ensures a seamless production process.
2.Low Noise: Noise ≤ 60 dB, quiet to use. The BL7825 operates quietly, contributing to a peaceful work environment. This is particularly beneficial in settings where multiple machines are running simultaneously.
3.High Torque: With its high torque, the BL7825 ensures that your ice cream maker machine has enough power to handle even the most demanding tasks. For example, makes frozen treats in 20 minutes or less.
4.Compact Size: Despite its power, the BL7825 maintains a compact size. This allows it to be easily integrated into your existing ice cream maker machine without requiring significant modifications.
With its unique parameters and characteristics, the BL7825 brushless motor is set to redefine ice cream production. It's not just a motor; it's a comprehensive solution designed to meet the specific needs of ice cream maker machines.
Other Ice Maker Machine Motor Platform
"Best Ice Cream Makers." Good Housekeeping. Accessed on [2023.7]. https://www.goodhousekeeping.com/appliances/ice-cream-maker-reviews/g258/best-ice-cream-makers/
"The Best Ice Cream Maker." The New York Times. Accessed on [2023.6]. https://www.nytimes.com/wirecutter/reviews/best-ice-cream-maker/
Know more about customized solutions
With a full suite of R&D team and manufacturing capacity, we are able to provide solutions to even our most complex challenges.